Male #12 Yellow @ 6 Weeks

Male #12 Yellow @ 6 Weeks

Male #12 Yellow @ 6 Weeks

Female #2 Purple @ 6 Weeks

Female #2 Purple @ 6 Weeks

Female #2 Purple @ 6 Weeks

Female #5 Lavender @ 6 Weeks

Female #5 Lavender @ 6 Weeks

Female #5 Lavender @ 6 Weeks

Female #11 Flower @ 6 Weeks

Female #11 Flower @ 6 Weeks

Female #11 Flower @ 6 Weeks
Week 6
Photography 101
Val forgot to turn the red eye on the camera, so we had to "fix" them...all the pups really have beautiful eyes!
Yvonne was sitting too low and a little off center while taking the pictures, some nice belly shots in there.
But the puppies...they were great and really starting to get the hang of things!
Check in next week they will be 7 weeks, we can't wait!
Val & Yvonne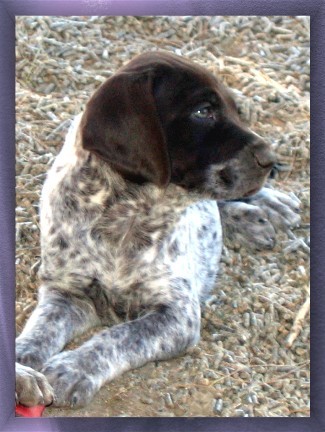 Female #2 Purple @ 6 Weeks

Male #8 Red Enjoying a Dip & a Drink!

Phelan, CA.