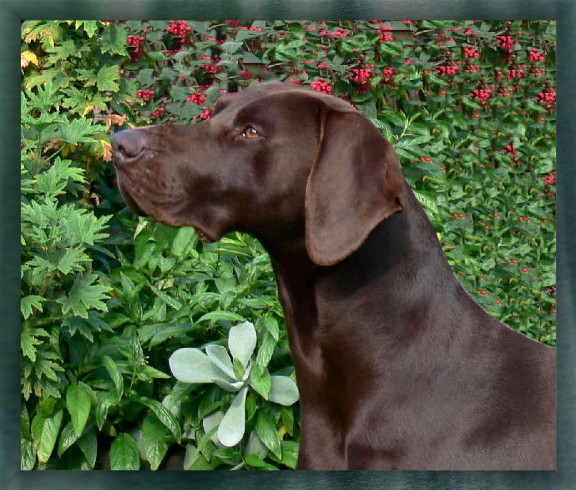 BISS AUST Grand CH Trupoint Hierarchy
"Mickey"
(Aus CH Trupoint Fourty Four Magnum X Aus CH Trupoint Simply Sophie)
Australian Scores 1:3 hips and 0:0 elbows
| | |
| --- | --- |
| | Breeders - Mark Nielson / Trupoint Kennels - Australia |
| | |
| --- | --- |
| | Co-Owners - Diana & Jade Norman / EDELHOF Kennels - Australia |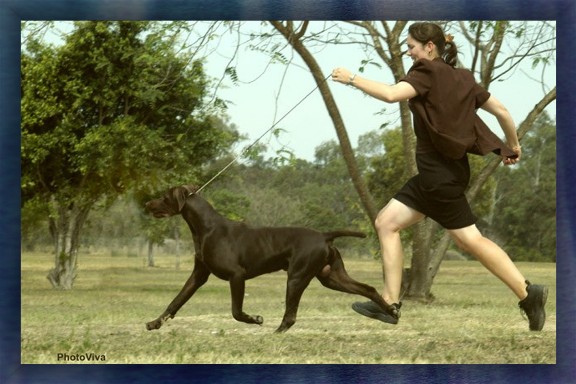 It's been almost two years in the making but they are finally here....
Our New Babies!
We bred our beautiful Megan daughter;
CH. VJK Point Made for Khrispat's - " Bella" to
BISS AUST GRAND CHAMPION Trupoint Hierarchy, also known as "Mickey".
Yes, we imported semen from this beautiful dog that literally took our breath away. We are proud to be the first to have Mickey babies in the USA. To make a very long story short. Val found him while surfing the web late one night. Our correspondence began and after pictures, pedigrees and video's, we made the decision that we wanted to incorporate him into our breeding program. We imported enough for three breedings. Val was able to arrange a trip to Austalia last year and meet Mickey in person. She had the honor of stacking him and moving him at the shows she attended last year in Melbourne. He is everything we had hoped he would be and more. His wonderful disposition was the icing on the cake of a beautifully put together dog, with the breed details we had been searching for.
Keep watching as we continue to update more pictures of Mickey and his first USA babies.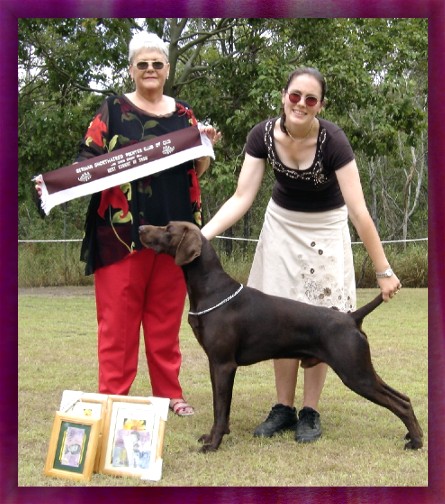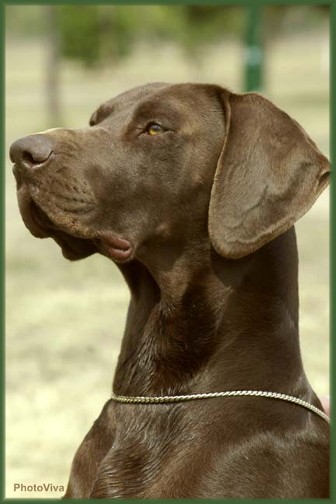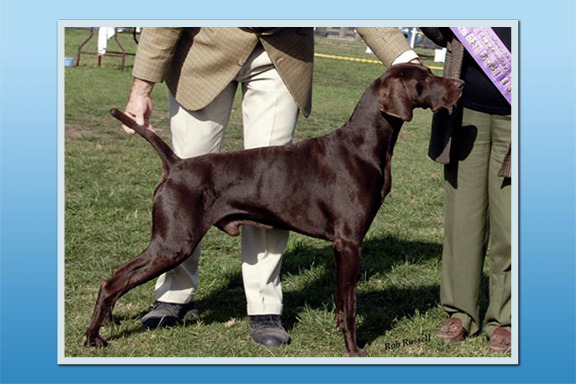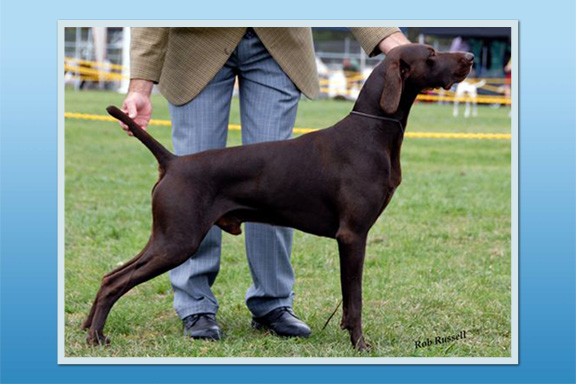 In Australia a canine control body has certain tests that many breeds have to have done to sire/dam in order to register the puppies. As GSP's are seen as a breed with very minimal health problems no testings are mandatory. Some breeders in Australia will hip/elbow score.
Mickey Australian Scores 1:3 hips and 0:0 elbows



OFA

SCORE

AUSTRALIAN

SCORE

Excellent
0 - 4 (no >3 per hip)
Good
5 - 10 (no >6 per hip)
Fair
11 - 18
Borderline
19 - 25
Mild Dysplasia
26 - 35
Moderate
36 - 50
Severe
51 - 106

Scoring is done on 9 different points of the hip joint anatomy and each area (apart from the caudal acetabular edge which is out of 5) is scored out of a possible 6 points. The lower the score, the better the hips. The maximum score per hip is 53, with an overall total of 106. The score is usually expressed as e.g. 0/3, where the first figure is the total score achieved in the right hip
Australian Elbow Score
Grade 0 = normal elbows (no enthesophyte formation)
Grade 1 = Mild ED (<2mm thickness of new bone formation)
Grade 2 = Moderate ED or a primary lesion (2mm to <5 mm of new bone)
Grade 3 = Severe ED (5+ mm of new bone formation or UAP)